First of all, I wanted to let you know about an amazing giveaway over at
Thriving in Third.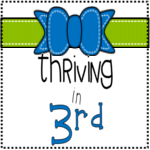 Lindsey is celebrating her 1 year blogiversary!
There are some amazing prizes to be won. I have donated my
Money Task Cards.
Today I popped into school to put together my pretty 10-drawer rolly carty thingy. I'm not going to lie... It took me a little while to assemble. And I might have had to take it apart again and put on the washers. Oops. My labels are on and finally, TA DA!!!
So this morning, I got up and couldn't find the garbage can. Weird. Where could it be? Well, it was under the bed. I pulled it out - it was kind of wedged in there - and stood it back up in its place. Then this happen. So busted, Jax!!!
Do you see why we couldn't foster him? He's a definite keeper!